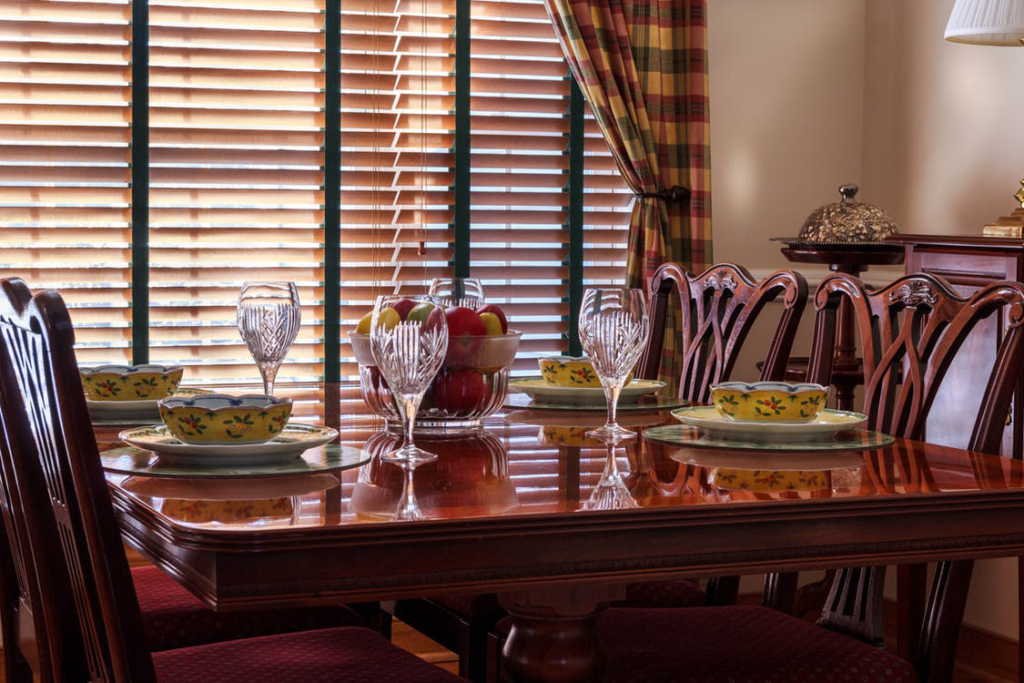 Your dining room can influence your experience of it greatly.
When it comes to decorating your dining room, the options are endless. Stay true to the overall theme you're trying to achieve, and make sure the interior décor matches it perfectly. This will help create a flow and coordinated vibe in your room. Your dining room is an area where you can get as creative as you want, so don't be afraid to experiment.
Below, we will discuss some dining room décor ideas to help you find your style!
Choose metallic wallpapers
A neutral-themed dining room never goes out of style. When it comes to achieving this look, texture and pattern are important. However, in order to add an interesting strike of color to your dining room, consider opting for metallic print wallpaper.
Pick interesting graphic patterns as these will help brighten up the room and will also highlight your lighting fixtures better. In order to make it stand out, you've got to pick a simple color palette. You don't want to make it look overdone.
Make the architectural details more visible
If your dining room consists of China cabinets or loads of bookcases, why not highlight them with stunning accents of color? Choose beautifully-designed table linen with unique patterns and stunning artwork to accentuate the little details of your dining room.
You might want to consider using a uniform shade with the table linens to avoid creating a distracted flow. Feel-good colors like mustard yellow or pastel green can do the trick.
Pick the right window treatment
The window treatments in your dining room are an integral part of it. Colorful drapes can be just what you need to add a hue of color to your room.
When it comes to decorating your wall with elegant draperies, you've got to go all out to make the most out of them and make them eye-catching. Consider installing a drapery roll wider than your actual window to create a more magnified look. Drapes also give an illusion of open space.
Check out our stunning range of window draperies in Corona, CA, now and get the best prices! We also offer custom window solutions, and our window treatments are top-notch. Call us now at 714-739-2801!