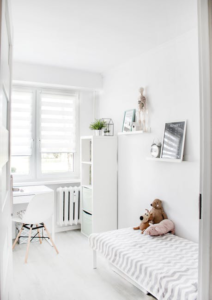 When it comes to choosing the right window treatments for your home nursery, you'll find that there is no shortage of options. You want to make sure your nursery is chic but practical at the same time, and offers maximum safety for your toddler.
It can be challenging to know where to start and what to choose. Before deciding on a window treatment option for your nursery, it is vital for you to know the drawbacks of each and do your research beforehand. Moreover, you also need to ensure it matches well with the rest of the room's theme.
Below we will discuss some window treatment ideas for your home nursery!
Roller shades
These are a relatively inexpensive option and can add to the visual appeal of your home nursery. You can conveniently roll them up during the day and this allows maximum sunlight to enter the nursery.
Consider buying a thick, UV ray blocking model of roller shades, and add a stylish fabric in the front. This could be anything from cute patterns to a splash of colors. This will make the corner pop, and make give your home nursery an instant boost of color.
Curtains
Curtains can look great in your home nursery, but there are some things you simply cannot afford to overlook. To get the most of out your curtains, make sure they don't have any beading or cording, and the curtain rods should be correctly installed to avoid injury.
You may also want to avoid adding longer length curtains and stick to shorter length ones so your child doesn't come into contact with it. Choose from a wide variety of different styles, colors, and patterns and enhance your nursery's aesthetic vibe.

Blinds
One of the cheapest window treatment options out there, these will never disappoint. They are the epitome of simplicity and go well with any interior décor theme. They also look great on smaller and larger sized windows, both.
If you choose to add blinds in your home's nursery, you do however need to make sure the cords are not long and exposed to avoid getting your child tangled in them. From neutral to bold colored ones, choose the blinds that fit your personal preferences best.
If you're ready to upgrade your home nursery, check out our window treatments in Downey, CA. We offer a wide selection of curtains, blinds, and shades perfect for your home. For more information, call us now at 714-739-2801!